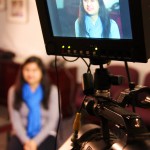 We're flexible with our pricing to accommodate the client's budgetary constraints.
We believe in offering additional services where other companies add fees.
We provide a master copy of your production with no usage restrictions.
We offer the convenience of our staff editing your production at your office to increase your productivity.
We have a network of professionals including producers, editors, graphic artists, narrators, instructional designers, web and print designers, videographers, photographers, script writers and uplink partnerships.
We have over 20 years of experience producing broadcast and corporate video and web content with award-winning results for domestic and international clientele.
We provide valuable insight to companies, associations, and various organizations on content development, cross-marketing, social networking sites and developing results to get the best value.
We offer professional, quality video production from concept to completion including cross marketing integration, fulfillment for product delivery and a network of media professionals.
We have a proven track record of developing and maintaining relations with investors, creative directors, news organizations and industry representatives.
We're experienced in managed content direction, field and studio production and crews, post production workflow and development for both television broadcast and website.